It's that time for all of us to take a moment to Count Our Blessings.
Allow me to start...
I'm sure you know the story of 'Goldilocks and the Three Bears'. Even though Goldilocks was just a child, she knew. She knew that she did not need or want the biggest, the best, or even the most. She was determined to find what was 'just right' for her.
Children can be so wise. As a former kindergarten teacher, I was always fascinated with my students' perception of the world around them. Life is not as complicated for children. They do not worry about outside influences or how others may perceive them. They follow their own instincts. They experience the freedom to do and be what is 'just right'.
As adults, we don't need the biggest, the best, or even the most. We are truly blessed when we celebrate who we are and what we already have.
So just as Goldilocks and my students, I now embrace what is 'just right' as I seek simplicity within my life. I can now do and be what is 'just right'. I can count my blessings.
Now go ahead, your turn...share a blessing!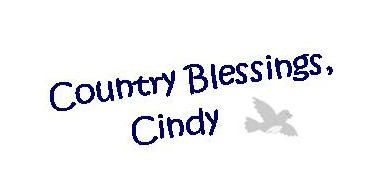 GUIDELINES FOR 'COUNT YOUR BLESSINGS':
-You may join in the first Saturday/Weekend of every month to share the blessings in your life. The meme will stay open for a few days to give you more opportunity to share.
-This is not to share our latest craft, thrifty purchase, or remodel project. Just a sharing of our blessings, an appreciation of life and what it has to offer. A time to push our problems aside. A reason to reflect what is good. A way to possibly give hope to others who need to hear something inspirational in their time of need.

-Click the LinkyTool below to link up your blessing post that is on your blog. In the URL line, insert your blog post URL, not your blog address. To do this, right click on the title of your blessing post on your blog, click copy shortcut, then paste it here.
-Please add the 'Count Your Blessings' button found in the right sidebar here to your blog post or do a link back (right click my post title, click copy shortcut, add to your blog post).
-Take the time to share and be inspired by other participants by visiting them and leaving comments.
Thank You For Sharing...Country Blessings To All!